Planes: Fire & Rescue
(PG)
Rated for action and some peril.

Dane Cook, Ed Harris
- 1 hr. 24 mins.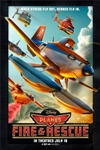 A new comedy-adventure about second chances, featuring a dynamic crew of elite firefighting aircraft devoted to protecting historic Piston Peak National Park from raging wildfire.
Official Site
Trailer
---
Dawn of the Planet of the Apes
(PG-13)
Rated for intense sequences of sci-fi vioelnce and action, and brief strong language

Andy Serkis, Jason Clarke
- 2 hr. 10 mins.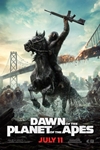 A growing nation of genetically evolved apes led by Caesar is threatened by a band of human survivors of the devastating virus unleashed a decade earlier.
Official Site
Trailer
---
How to Train Your Dragon 2
(PG)
Rated for adventure action and some mild rude humor

Jay Baruchel, Gerard Butler
- 1 hr. 45 mins.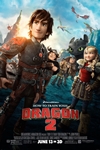 Hiccup's world is turned upside down when he encounters a dragon that challenges him and his fellow Vikings to see the world from an entirely different point of view.
Official Site
Trailer
---
The Fault in Our Stars
(PG-13)
Rated for thematic elements, some sexuality and brief strong language

Shailene Woodley, Ansel Elgort
- 2 hr. 5 mins.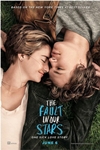 Hazel and Gus are two extraordinary teenagers who share an acerbic wit, a disdain for the conventional, and a love that sweeps them - and us - on an unforgettable journey. Their relationship is all the more miraculous, given that they met and fell in love at a cancer support group.
Official Site
Trailer
---