Inside Out
(PG)
Rated for mild thematic elements and some action

Amy Poehler, Mindy Kaling
- 1 hr. 42 mins.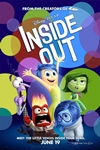 Growing up can be a bumpy road, and it's no exception for Riley. Like all of us, Riley is guided by her emotions - Joy, Fear, Anger, Disgust and Sadness. The emotions live in Headquarters, the control center inside Riley's mind, and help advise her through everyday life.
Official Site
Trailer
---
Jurassic World
(PG-13)
Rated for intense sequences of science-fiction violence and peril

Chris Pratt, Bryce Dallas Howard
- 2 hr. 4 mins.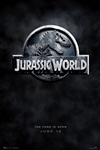 Steven Spielberg returns to executive produce the long-awaited next installment of his groundbreaking Jurassic Park series, Jurassic World. Colin Trevorrow directs the epic action-adventure based on characters created by Michael Crichton.
Official Site
Trailer
---
Spy
(R)
Rated for language throughout, violence, and some sexual content including brief graphic nudity

Melissa McCarthy, Jason Statham
- 2 hr. 0 mins.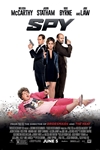 Susan Cooper is an unassuming, deskbound CIA analyst, and the unsung hero behind the Agency's most dangerous missions. But when her partner falls off the grid and another top agent is compromised, she volunteers to go deep undercover to infiltrate the world of a deadly arms dealer, and prevent a global disaster.
Official Site
Trailer
---