The Huntsman: Winter's War
(PG-13)
Rated for fantasy action violence and some sensuality

Chris Hemsworth, Charlize Theron
- 2 hr. 3 mins.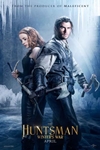 The young ice queen has spent decades in a remote wintry palace raising a legion of deadly huntsmen, only to find that her prized two defied her one demand: Forever harden your hearts to love.
Official Site
Trailer
---
The Jungle Book
(PG)
Rated for some sequences of scary action and peril

Bill Murray, Ben Kingsley
- 1 hr. 45 mins.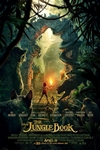 An orphan boy is raised in the Jungle with the help of a pack of wolves, a bear and a black panther.
Official Site
Trailer
---
Zootopia
(PG)
Rated for some thematic elements, rude humor and action

Ginnifer Goodwin, Jason Bateman
- 1 hr. 48 mins.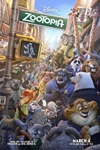 When rookie Officer Judy Hopps arrives in Zootopia, she discovers that being the first bunny on a police force of big, tough animals isn't so easy. Determined to prove herself, she jumps at the opportunity to crack a case.
Official Site
Trailer
---