Lucy
(R)
Rated for strong violence, disturbing images, and sexuality

Scarlett Johansson, Morgan Freeman
- 1 hr. 29 mins.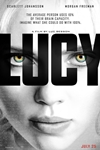 A woman is accidentally caught in a dark deal, turns the tables on her captors and transforms into a merciless warrior evolved beyond human logic.
Official Site
Trailer
---
Planes: Fire & Rescue
(PG)
Rated for action and some peril.

Dane Cook, Ed Harris
- 1 hr. 24 mins.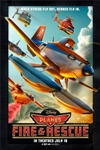 A new comedy-adventure about second chances, featuring a dynamic crew of elite firefighting aircraft devoted to protecting historic Piston Peak National Park from raging wildfire.
Official Site
Trailer
---
Dawn of the Planet of the Apes
(PG-13)
Rated for intense sequences of sci-fi vioelnce and action, and brief strong language

Andy Serkis, Jason Clarke
- 2 hr. 10 mins.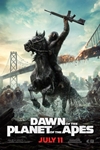 A growing nation of genetically evolved apes led by Caesar is threatened by a band of human survivors of the devastating virus unleashed a decade earlier.
Official Site
Trailer
---